MSC Cruises is the only home ported cruise line in South Africa. The two main ports of departure and destination are in Durban and Cape Town. MSC has one ship, the Musica, sailing in SA this season. All cruises listed below for MSC are therefore on the Musica.
MSC Musica can cater for approximately 3,200 guests and will offer 38 cruises. The ship will alternate routes, providing South African cruisers with a wider choice of options to suit their holiday needs. This means that both Cape Town and Durban ports of embarkation will get to experience the leading cruise line's elegant and diverse product offering and enjoy more cruise destinations and packages than ever before.

One MSC cruise that has proven extremely popular with our guests is the 14-night New Year Cruise around Southern Africa, and our 2021/2022 cruise itinerary will be no different. The cruise will depart from Durban on 26 December and will incorporate destinations including Portuguese Island; Nosy Be, Madagascar; followed by Port Victoria, Seychelles; and then Port Louis in Mauritius, returning to Durban on 09 January.

Guests wishing to experience the delights of a briefer MSC Cruise holiday in the 2021/2022 season can book onto a myriad of departures that offer three-, four- and five-night sailings around the South African coastline until April 2022.

Highlights of these itineraries include Pomene Bay in Mozambique – a marine safari experience complete with its own beach club – Portuguese Island, and Maputo.
We have information on the cabins, ship map and deckplans for the Musica, so if you would like any of this information, then kindly email us on info@gowithme.co.za or alternatively, you are welcome to contact me, Gary, directly on my WhatsApp number: 061 586 9674.
The Norwegian Cruise Line (NCL) has sailings in our upcoming local season on the Jade from Cape Town.
Azamara cruises also has sailings from Cape Town, in the upcoming season.

DURBAN
ABOUT THIS PORT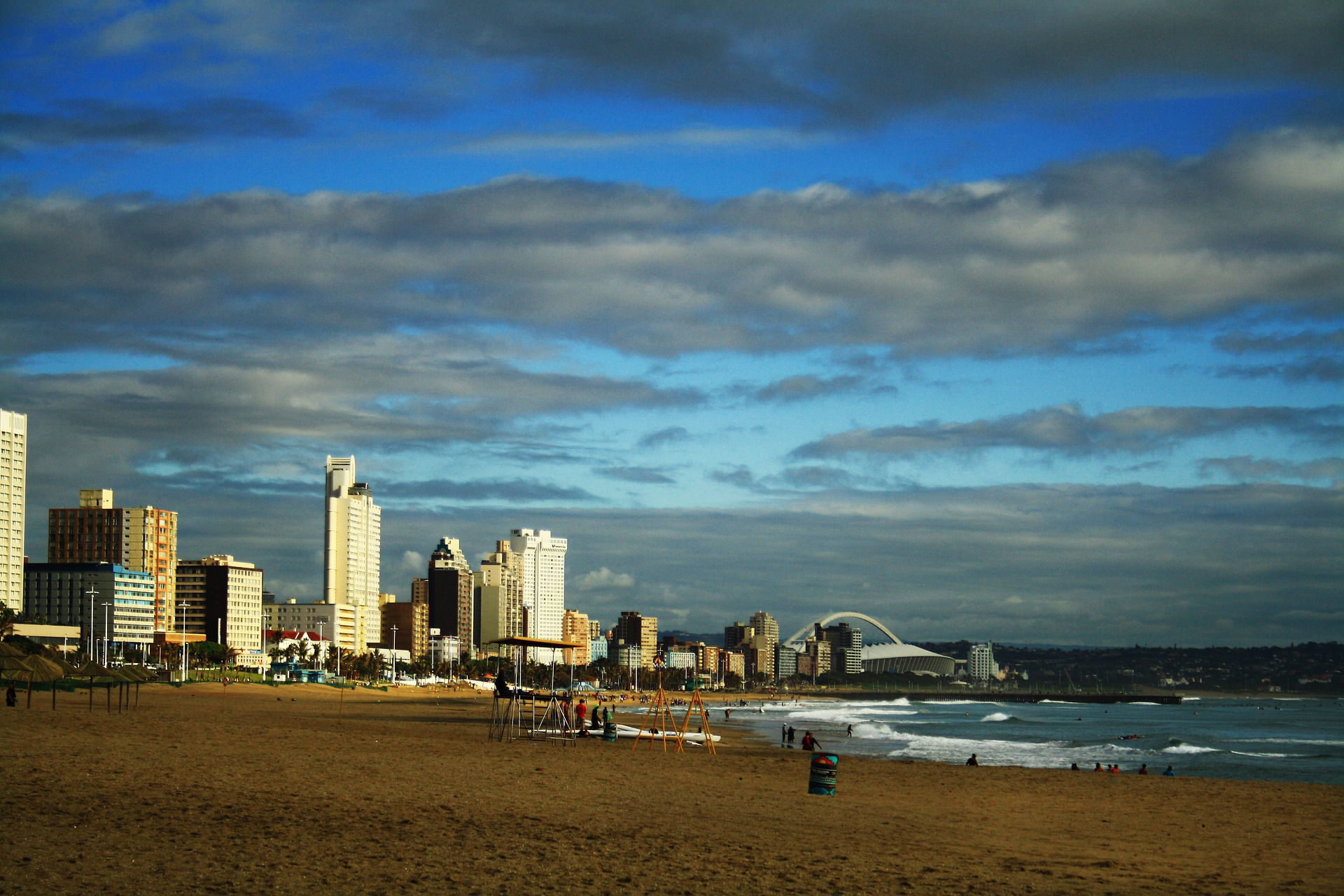 The Indian and colonial influences in this South African beach city can't be missed, and the blend of cultures and architecture makes Durban unique in South Africa. Durban's Golden Mile is a destination for surfers, families, and fishermen, due to its blend of natural beauty and modern resort. Major-city attractions abound, making this a good destination for families and couples alike.
LOCATION – CRUISE SHIP PASSENGER TERMINAL
Cruise ships depart or arrive at the N Shed passenger terminal, operated by Transnet National Ports Authority. The terminal is located about a 10-minute walk from the city center of Durban, but it's recommended to take a taxi from or to your hotel due to safety reasons.
There is a plan to construct a new terminal at A-berth, located adjacent to Point Waterfront.
Port of Durban (Transnet National Ports Authority)
PO Box 1027 DURBAN 4000
Tel (27) 031 361 3755 (switchboard)
Tel (27) 031 361 5580 (Customer Call Centre)
email CustomerCare@transnet.net
Fax (27) 086 639 3048

A major cruise company departing from the port is MSC Cruises, offering cruises to Mozambique, Reunion, Mauritius, and itineraries to the port of Cape Town in South Africa.
Several longer voyages that visit the port of Durban depart from Singapore Marina Bay cruise center, Dubai Port Rashid, or Abu Dhabi United Arab Emirates.
KING SHAKA INTERNATIONAL AIRPORT
PASSENGERS WILL ARRIVE BY PLANE AT THE NEW KING SHAKA INTERNATIONAL AIRPORT OF DURBAN, APPROX. LOCATED 35KM OR 22MI NORTH OF THE CITY CENTER AND CRUISE SHIP TERMINAL.
From the airport, you can easily get to your downtown hotel by either taxi, shuttle van, bus, or by limo.
CURRENCY AND LANGUAGE
The currency of Durban is the South African Rand (ZAR).
The most commonly spoken languages in Durban are English and Zulu.
TIPS FOR DURBAN
If you want to vacation where South Africa's locals choose to vacation, then Durban is your spot. Located along the East Coast of South Africa, Durban offers resplendent beaches and restaurants. The city has South Africa's largest Indian population because during British control of the city many workers were brought over from India to work at the sugar plantations. Durban is also known to have a creative population; many artists, avant-garde fashion designers, and interior designers have emerged from the city to garner acclaim. Experience this and more on a cruise to Durban, South Africa.
Take a rickshaw ride along the beachfront of Durban's "Golden Mile" of beaches. Here you can also find a variety of shops, bars, and restaurants.
Learn about the white gold (aka sugar) that transformed Durban's landscape at the Old Courthouse Museum. You'll also see artifacts from the city's colonial times.
See some of the city's local art at the Art Gallery which features Zulu arts and crafts and Hlabisa baskets.
Tour Crocodile Creek, an attraction with more than 7,000 crocodiles, alligators, snakes, and other reptiles. You can see the animals get fed and walk along the park's trails.
The local MSC sailings from Durban & Cape Town in the upcoming season are as follows.
CAPE TOWN
ABOUT THIS PORT
A coming-together of cultures, cuisines, and landscapes, there's nowhere quite like Cape Town, a singularly beautiful city crowned by the magnificent Table Mountain National Park.
Table Mountain National Park defines the city. The flat-topped mountain is the headline act, but there are many other equally gorgeous natural landscapes within the park's extensive boundaries. Cultivated areas, such as the historic Company's Garden, Kirstenbosch National Botanical Garden, and Green Point Urban Park, also make exploring the city a pleasure. Follow the lead of locals by taking full advantage of the abundant outdoor space: learn to surf; go hiking or mountain biking; tandem-paraglide off Lion's Head; abseil off the top of Table Mountain – just a few of the many activities on offer.
Finding accommodation that suits your wishes shouldn't be difficult, as Cape Town offers some amazing hotels. Some of the most popular choices include beachfront locations; they are not only very scenic but also enable easy access to the ocean whenever you feel like swimming. We do recommend you make a trip to the wine area of Stellenbosch and Franschhoek. https://maps.google.com/maps?q=duncan%20cruise%20terminal%20cape%20town&t=m&z=10&output=embed&iwloc=near
DUNCAN CRUISE TERMINAL
The larger cruise ships departing or arriving in Cape Town dock at the Duncan Cruise Passenger Terminal or at the Eastern mole wharf area about 10 minutes from the city center.
Vessels dock at E and J berths in the Duncan Dock or at the Eastern mole area depending on space availability and vessel size.
Smaller ships however can dock right at the V&A Waterfront, the central harbor area boasting indoor shopping, dining, entertainment, and a huge Mall.
Website: ports.co.za/cape-town
Cape Town in South Africa is a well-known destination for cruise ships, particularly those engaged in round the world cruising. Some cruise line itineraries will bring you to Singapore or Hong Kong in Asia and the Port of Rio de Janeiro in Brazil.
Some cruise lines will take you for a journey around South Africa with stops in Walvis Bay, Port Elizabeth, East London, Port of Durban, Richards Bay, and Mossel Bay.
Port Contact
Transet National Ports Authority
Port of Cape Town
PO Box 4245
8000 CAPE TOWN
CAPE TOWN INTERNATIONAL AIRPORT
The international airport is located just over 20km or 12mi away from the center of the city and cruise terminal.
You can easily get to your hotel or the port area by metered taxi or various private shuttle companies. The MyCiTi bus rapid transit system provides a shuttle service as well. This route connects the airport with the Civic Centre bus station in the city center.
The airport has direct international flights to several destinations in Africa, Asia, and Europe. There a frequent domestic connection with other major urban areas in South Africa such as Johannesburg and Durban.
Website: www.acsa.co.za/
CAPETOWN LOCATION
The city lies in the south-west corner of South Africa, and it is located near the Cape of Good Hope.
When you start exploring the city, you should most definitely take time to see the Bo-Kaap, a famous neighborhood that is a common location for movie shoots, the Castle of Good Hope, which is the oldest surviving building in South Africa, the huge and spectacular Kirstenbosch Botanical Gardens, the South African Parliament, where you can learn more about the history of South Africa and its political system, and the Two Oceans Aquarium, where you can watch the sharks' feeding.
Once you have had enough of the city, you should definitely make time for a trip to Robben Island, which is located just off the coast from the town.
And surely when you have time go to visit the winemaking area and do some wine tasting, or better stay in a winery hotel in the Stellenbosch and Franschoek cities. Beautiful!
A historically significant location will help you better understand the apartheid days, but don't worry, your day won't be all gloomy – the island itself is actually pretty scenic, and if you are lucky, you might end up meeting African penguins.
CURRENCY AND LANGUAGE
The currency in South Africa is the Rand (ZAR).
The most commonly spoken language in Cape Town is Afrikaans. Most people also speak English.
TOURIST AND POST OFFICE
Tourist Office
City Centre: Pinnacle Building, Cnr Burg & Castle Streets.
tel: +27 (0)21 487 6800 / fax: +27 (0)21 487 6859 / email : info@capetown.travel
V&A WATERFRONT: V&A Waterfront
tel: +27 (0)21 408 7600 / fax: +27 (0)86 679 6449 / info@waterfront.co.za
Post Office
1st Level, Grand Central Bldg, Cnr Plein & Darling St
8001 Cape Town City Centre, Cape Town
Western Cape, South Africa
TIPS FOR CAPETOWN
Cape Town, which is located at the southern tip of the African continent, forms an amphitheater shape from the mountains to the bay. When viewed from the top of Table Mountain, with its relatively flat peak, the city's downtown district seems minuscule. While the exact origins of Cape Town are lost, it had a long history as a colony of The Netherlands and then Britain. However, today South Africa is probably most noted for its former president, the late Nelson Mandela, who ushered in an era of post-apartheid South Africa. Cape Town is also the most visited city in all of Africa because it offers a beautiful backdrop of beaches and mountains along with famed vineyards and cultural attractions. Contact our cruise experts to find the perfect cruise to Cape Town, South Africa.
See 8,000 of South Africa's local plant species at the Kirstenbosch Botanical Gardens. This attraction is a beautiful and well-maintained garden with guided tours and musical performances on Sundays.
Head out to Robben Island which was once the prison where Nelson Mandela lived for 27 years and is now a museum. You are guided through this island by a former political prisoner.
Take the cable car to the top of Table Mountain for breathtaking views of the city whose nickname is Mother City. If you are up for a challenge you can climb up the mountain, but this is only an option for experienced hikers.
Head out to the Winelands where you can visit several wine farms for tastings and stop in Stellenbosch or Franschhoek, considered to have some of Cape Town's best restaurants.
A day at Boulders Beach may be a different beach experience than you've ever had. This attraction is the home to a colony of 3,000 penguins. You can check out these little creatures from the boardwalk where you'll also find great restaurants.
PASSPORT, VISA & VACCINATIONS
All persons are required to present a valid passport in order to enter South Africa. Passports must be valid for no less than 30 days after the end of your visit. An entry visa may be required by certain nationalities or in certain circumstances. For more up-to-date information on visa requirements, please click here.
WEATHER
Cape Town enjoys a four-season Mediterranean climate with mild winters and warm summers: September–February (Spring/Summer) has an average temperature of 20°C/68°F; March-August (Autumn/Winter) has an average temperature of 17°C/63°F.
GDS CODES
Amadeus OOCPTOAO
Sabre OO105273
Galileo OO10911
Worldspan OOCPTOA
Pegasus OO23263
LANGUAGE
English is the primary language spoken in One&Only Cape Town, followed closely by Afrikaans.
CURRENCY
South African Rand is the official currency of South Africa.TIME ZONE
Cape Town, South Africa is two (2) hours ahead of Greenwich Mean Time (GMT +2).ELECTRICITY
Electricity is supplied at 220 volts. Adaptors are available.