Additional cruises are currently being uploaded – kindly return here to view shortly. Thank you
ROME CIVITAVECCHIA
ABOUT THIS PORT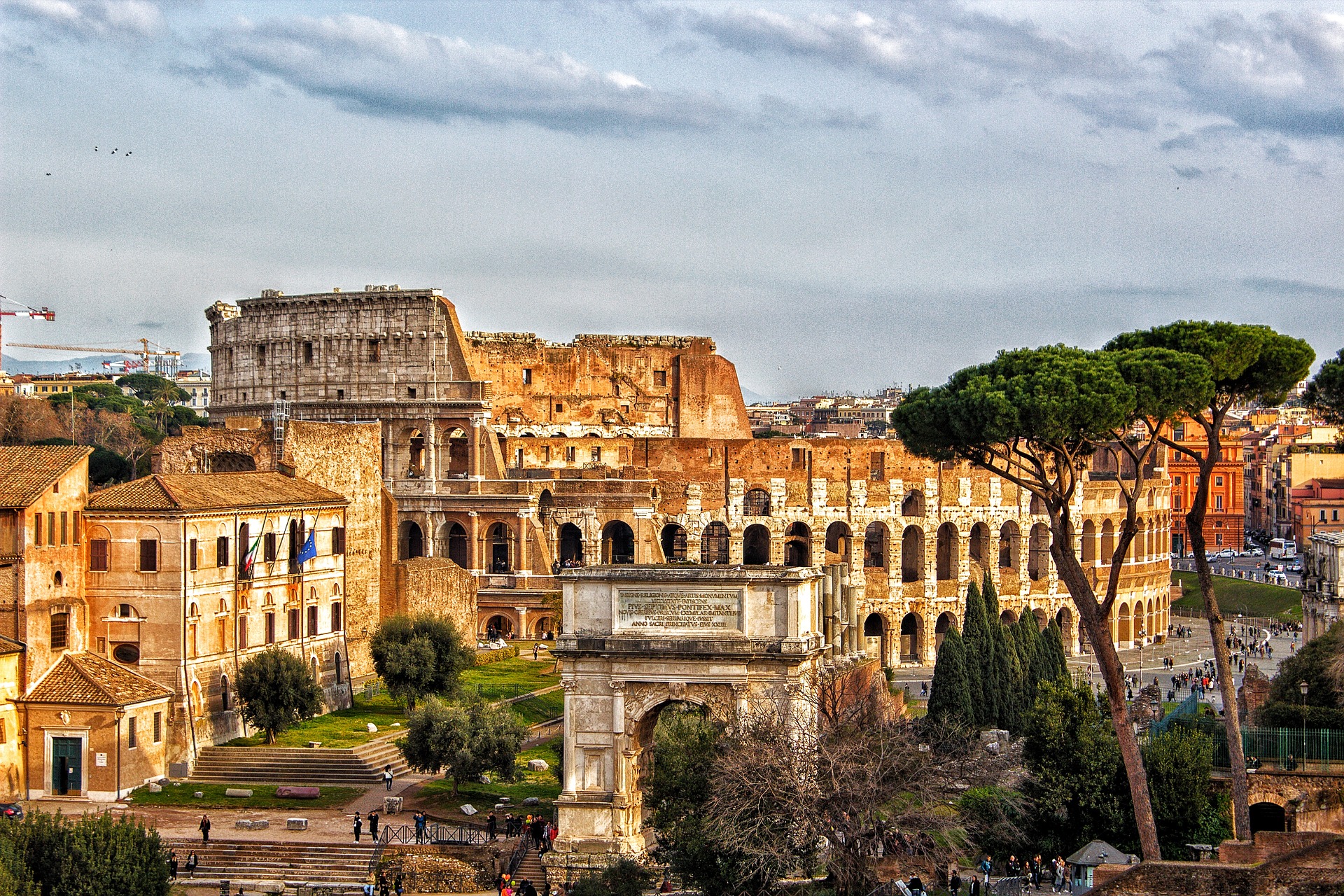 Just a 90-minute train ride from the great European capital of Rome, Civitavecchia is a popular port for cruise lines. After disembarking from a cruise to Civitavecchia, you'll want to catch a train to the Eternal City. Rome has been one of the most important cities in the world for centuries. It is here where the capital of the Holy Roman Empire was situated, and it is here where Julius Caesar ruled. While the city thrives with ancient ruins and mythical stories of the past, it is also a bustling metropolis. Still the capital of Italy, Rome is filled with an active population, many of them zipping around on mopeds. However, when it comes time for a meal, the Romans slow down to enjoy wine and classic Italian dishes.https://maps.google.com/maps?q=civitavecchia%20cruise%20terminal&t=m&z=10&output=embed&iwloc=near
STAY NEAR CIVITAVECCHIA CRUISE SHIP TERMINALS OR BETTER…. IN ROME
Some hotels in Civitavecchia are within walking distance or only a short taxi ride away, some offer splendid sea views and are located at the seafront. Lots of restaurants are nearby.
When visiting Rome for a couple of days, consider a stay in the heart of the city within walking distance of most historic sites. Visiting Rome? Recommended is to stay in the historic center. The Pantheon, Piazza Navona, Campo Dei Fiori, Trevi Fountain, The Spanish Steps are at the very center of old Rome. Staying somewhere around the historic center gives you the opportunity to visit most attractions on foot.
If you're leaving from or arriving at one of Rome's airports, it may be more convenient to spend the night close to Fiumicino or Ciampino airport. The next day you can take a shuttle to the port.
MAJOR SEAPORT
Civitavecchia is the gateway to Rome.
The town of Civitavecchia is well known for its superb seafood and attractive sights such as the massive Forte Michelangelo, Cathedral of San Francesco d'Assisi, and The Rocca.

The Port of Civitavecchia, also known as the Port of Rome, is a major seaport for cruise ships and ferries. It's also one of the main links with Sardinia, the second-largest island in the Mediterranean Sea after Sicily (main city Palermo). Extend your cruise vacation for a couple of days and stay in ancient Rome, which is about 1 1/2 to 2 hours away from the port.
CRUISE PASSENGER TERMINALS
The modern port is located close to the town center. Several vessels can dock at the same time, at one of the 11 quays, which are used by cruise lines.
11 Piers: Traianea, 12, 12B, 13A, 13B, Bramante pier 12, and temporary terminals at piers 11 and 25.
Major cruise companies such as Royal Caribbean International (RCL), Celebrity Cruises, Holland America Line, Seabourn, depart, or end Mediterranean cruises in Civitavecchia. It's one of the busiest ports in the Med. Sailings from the harbor will take you to various Italian and other Mediterranean ports such as Venice, Athens in Greece, Istanbul in Turkey, the Bay of Naples, Port of Barcelona, and beautiful Dubrovnik in Croatia.
Address
Molo Vespucci, Civitavecchia 00053, Italy
By Road
By road, the Port of Civitavecchia is approximately 1h30 minutes to 2 hours by taxi or bus from Rome (depending on traffic).
By Train from Rome to Civitavecchia
You can also take the train from Rome's Termini railway station located in the heart of the city.
Trains run every 30 minutes from Termini to Civitavecchia railway station, which is located within walking distance of the port's entrance (600m).
Eurostar city – Frecciabianca train takes 45 minutes from Roma Termini. The slower regional trains depart from Termini Station, Ostiense, and Trastevere train stations.
Accommodations are somewhat cheaper in this area. Rome's Opera House is nearby and both the Coliseum and the Trevi Fountain are only 2 metro stops away.
NEAREST AIRPORT – FIUMICINO AND CIAMPINO AIRPORTS
Fiumicino International Airport FCO — Fiumicino or Leonardo da Vinci airport is the main international airport in Rome, located approximately 31 miles or 50 km from the piers.
Several shuttle services are available from the airport to Rome and Civitavecchia. Travel time by private shuttle is 50 minutes, or more depending on traffic.
Another cheaper option is taking the train from the airport to Trastevere railway station, from this station you can take a local train to Civitavecchia. Travel time is 2 hours.
Some establishments will transfer you for free from and to Rome's Fiumicino international airport. Some are located within walking distance of the terminal. Shops, restaurants, cafés, and a large shopping center can be found in the area.
Ciampino International Airport CIA — Rome's second airport, 1 hour from the port.

Rome Ciampino airport has no direct rail link. You can reach Rome by taking a train from the Ciampino railway station, located in the town center (travel time to Rome is 15 minutes).
You can get to Rome also by either taxi or one of the airport buses.
There are several ways to travel between Ciampino and Civitavecchia. You can take a taxi, private shuttle, rent a car or jump on a train (first bus to Termini, then by train).
Some properties provide a free airport shuttle service from/to the airport.
CURRENCY AND LANGUAGE
The currency of Italy is the Euro (€).
Italian is the language in Rome and Civitavecchia. English is also spoken on touristic spots.
TIPS FOR ROME CIVITAVECCHIA
Just a 90-minute train ride from the great European capital of Rome, Civitavecchia is a popular port for cruise lines. After disembarking from a cruise to Civitavecchia, you'll want to catch a train to the Eternal City. Rome has been one of the most important cities in the world for centuries. It is here where the capital of the Holy Roman Empire was situated, and it is here where Julius Caesar ruled. While the city thrives with ancient ruins and mythical stories of the past, it is also a bustling metropolis. Still the capital of Italy, Rome is filled with an active population, many of them zipping around on mopeds. However, when it comes time for a meal, the Romans slow down to enjoy wine and classic Italian dishes. Experience the best of the Mediterranean with a cruise to Rome. Featured below are a few of our favorite experiences for the cruise port of Rome, Italy:
One of Rome's greatest ruins is the Colosseum. This amphitheater was a popular destination for Romans in 80 AD and onward where they could watch gladiators battle against each other or different species of animals.
Head to the Borghese Gallery which has an amazing collection of paintings and sculptures and is housed in the Villa Borghese. The Villa itself contains beautiful gardens.
Located within Rome is the independent nation of The Vatican, where the Pope lives. You can't visit Rome without a tour through the Sistine Chapel. Your neck may hurt but you won't want to take your eyes off of Michelangelo's painted ceiling.
Spend an afternoon in the Trastevere with its cobbled streets and be sure to stay for a meal because this neighborhood is considered to have some of the best food in the city.
At night, take in the full splendor of the Trevi Fountain. The popular fountain has intricate details in its carvings, and many believe you should toss a coin into the fountain to ensure a return trip to Rome.
Credits for above information: https://www.cruisetcetera.com/cruise-port-rome-civitavecchia/